Greek Style Steak Rolls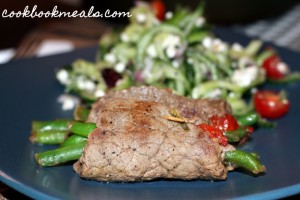 1 pound thinly sliced beef round sandwich steak (8 slices total)
ground black pepper
½ cup beef broth
1 tablespoon soy sauce
2 tablespoons plus 2 teaspoons extra virgin olive oil, divided
2 cloves garlic, minced
3 scallions, thinly sliced
½ cup roasted red peppers, thinly sliced
1 small bag green beans
15 cherry tomatoes, halved
2 tablespoons fresh oregano, minced
¼ cup crumbled feta cheese
Season the beef with pepper, to taste.
Combine the beef broth, soy sauce, and 2 teaspoons of the olive oil.
Whisk well.
Pour the marinade over the beef.
Cover and refrigerate for 2 hours.
Heat 1 tablespoon of olive oil in a skillet over medium-high heat.
Add the garlic and scallions.
Cook until fragrant, about 30 seconds.
Add the roasted peppers, green beans, and tomatoes.
Stir and cook until the green beans are tender crisp, about 3 minutes.
Add the oregano and stir.
Remove the skillet from the heat.
Stir in the feta.
Let the vegetables cool for a few minutes.
Heat another skillet over high heat.
Add the remaining tablespoon of olive oil.
Lay the pieces of steak flat on a cutting board.
Place some of the green bean mixture in the center of each piece.
Roll up each piece of steak.
Secure each roll with a toothpick.
Place the steak rolls, seam-side down, in the skillet.
Let cook for about 3 minutes, then flip.
Continue cooking until the beef is cooked through, about 3 more minutes.
Remember to remove the toothpicks before serving.