Buffalo Chicken Burger Salad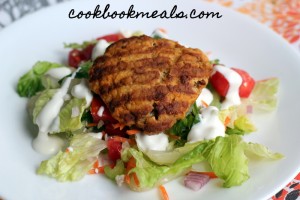 1 bag romaine lettuce
2 stalks celery, thinly sliced
2 plum tomatoes, chopped
½ of a small red onion, finely chopped
¼ cup shredded carrots
1 scallion, sliced
1 package ground chicken
3 tablespoons buffalo sauce
½ cup crumbled blue cheese, divided
2 teaspoons cornstarch
¼ teaspoon ground black pepper
nonstick cooking spray
2 avocados, cubed
blue cheese dressing
Combine the lettuce, celery, tomato, onion, carrots, and scallion in a large serving bowl.
Toss to combine.
Preheat your grill to medium-high.
Combine the chicken, buffalo sauce, half of the blue cheese, cornstarch, and black pepper in a large bowl.
Mix to combine.
Divide the meat into 4 equal sections.
Form a patty from each section.
Coat your grill with the nonstick cooking spray.
Add the burgers.
Let cook for about 8 minutes, then flip.
Continue cooking until the burgers reach an internal temperature of 170°.
Add the remaining blue cheese to the salad.
Toss to combine.
To serve, pile the salad onto a plate.
Drizzle some of the dressing on top.
Add half of an avocado to each plate.
Finish with a chicken burger on top.
Recipe by
Cookbook Meals
at http://www.cookbookmeals.com/buffalo-chicken-burger-salad/