Stuffed Cabbage Soup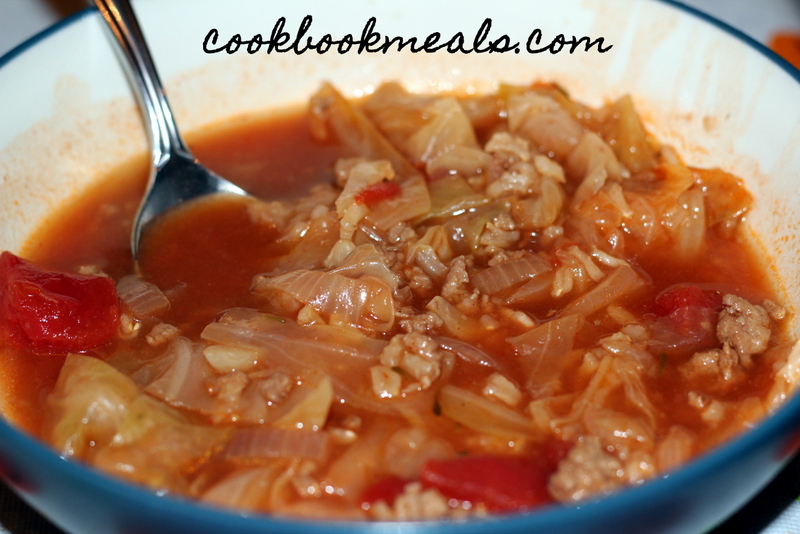 1 package ground pork
1 red onion, finely chopped
5 cloves garlic, minced
1 head green cabbage, chopped
3 tablespoons flour
1 large can diced tomatoes
4 cups beef broth
1½ cups V8 juice
1 bay leaf
1 tablespoon Worcestershire sauce
1 teaspoon dried thyme
1 teaspoon paprika
salt and pepper, to taste
½ cup brown rice
Heat a large Dutch oven over medium-high heat.
Add the pork, and break the meat up with a wooden spoon.
When the pork is almost completely browned, add the onion and garlic to the pot.
Stir to combine.
Cook until the veggies soften a little, about 5 minutes.
Add the cabbage.
Let cook, stirring occasionally, until the cabbage begins to wilt.
Sprinkle in the flour.
Stir to evenly distribute the flour.
Add the diced tomatoes and broth.
Stir then pour in the V8.
Add the Worcestershire sauce, bay leaf, thyme, paprika, salt and pepper.
Stir to combine.
Add the rice.
Stir again.
Bring to a boil, reduce the heat, then cover and let cook for about 30 minutes until the rice is cooked through.