Lemon Feta Zucchini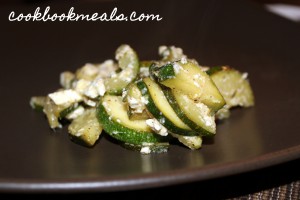 1 tablespoon butter
1 tablespoon extra virgin olive oil
zest from ½ of a lemon
1 zucchini, sliced into thin half moons
1 clove garlic, minced
⅛ teaspoon coarse kosher salt
¼ teaspoon ground black pepper
juice from ½ of a lemon
¼ cup crumbled feta
Melt the butter with the olive oil in a skillet over medium-high heat.
Sprinkle in the lemon zest and let cook for 30 seconds.
Place the zucchini in a single layer in the skillet.
Add the garlic.
Cook for about 3 minutes, then flip the zucchini.
Season the zucchini with the salt and pepper.
Stir to incorporate.
Let cook for another 2 minutes.
Squeeze in the lemon juice.
Remove the skillet from the heat.
Add the feta.
Stir to combine.
Cover the skillet for a couple of minutes before serving to let the cheese melt.