Sausage and Tomato Stuffed Zucchini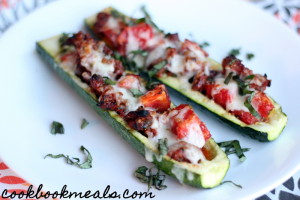 2 zucchini, cut in half lengthwise
2 tablespoons extra virgin olive oil
4 hot Italian sausage links, removed from their casings
2 plum tomatoes, chopped
2 cloves garlic, minced
3 tablespoons basil paste
salt
ground black pepper
4 teaspoons Parmesan cheese, grated
4 tablespoons shredded mozzarella cheese
4 large basil leaves, chiffonade
Preheat your oven to 350°.
Scoop the seeds out of the zucchini halves.
Pour the olive oil in a small bowl and brush both sides of the zucchini with some of it.
Line a baking sheet with foil.
Set a cooling rack on top of the baking sheet.
Place the zucchini on top of the cooling rack, cut side down.
Bake for 15 minutes.
Meanwhile, heat the remaining olive oil (about ½ a teaspoon) in a sauté pan over medium-high heat.
Add the sausage meat.
Break the meat up with a wooden spoon.
Cook until browned, about 10 minutes.
Add the tomato, garlic, and basil paste.
Cook until the tomatoes are warmed through, about 2 minutes.
Remove the zucchini from the oven after 15 minutes and flip them over.
Season the zucchini with some salt and pepper, to taste.
Fill each zucchini with the sausage tomato mixture.
Place back in the oven and bake for an additional 10 minutes.
Remove from the oven and set your broiler to low.
Top each stuffed zucchini with the Parmesan cheese, followed by the mozzarella.
Broil until the cheese has melted, about 2 minutes.
Garnish with the fresh basil.
Recipe by
Cookbook Meals
at http://www.cookbookmeals.com/sausage-and-tomato-stuffed-zucchini/