Slow Cooker Meat Sauce with Zucchini Noodles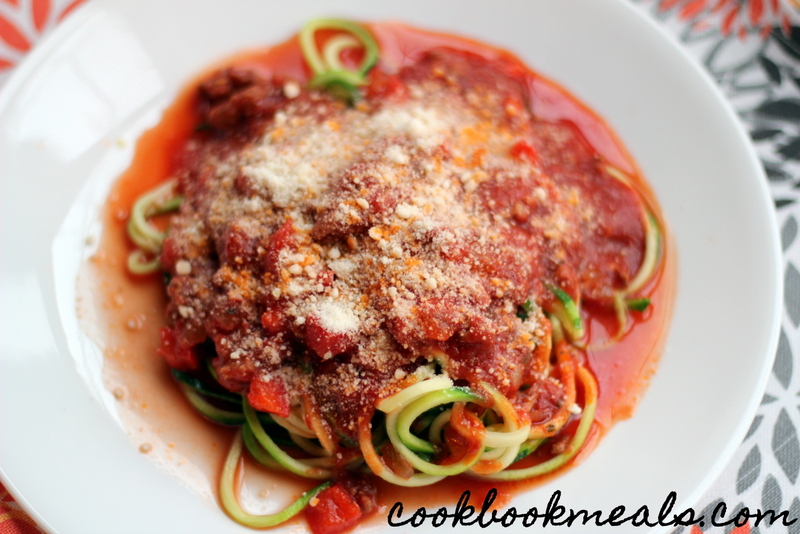 Serves:
zucchini noodles serves 4; pasta sauce serves 16
1 pound ground chuck
8 hot Italian sausage links, removed from their casings
2 teaspoons extra virgin olive oil
2 red peppers, diced
2 onions, diced
7 cloves garlic, minced
3 large cans crushed tomatoes
1 small can tomato paste
½ cup red wine
coarse kosher salt
ground black pepper
¼ teaspoon crushed red pepper flake
¼ teaspoon dried thyme
¼ cup grated Parmesan cheese
3 zucchini, spiralized through the shredder blade
Heat a large skillet over medium-high heat.
Add the ground chuck and sausage meat.
Break the meat up with a wooden spoon.
Cook until browned, about 10 minutes.
Transfer the meat to your slow cooker using a slotted spoon.
Discard the excess fat in the skillet.
Add the olive oil to the same skillet.
Once the oil is hot, add the peppers, onions, and garlic.
Cook, stirring occasionally, until soft, about 10 minutes.
Transfer the vegetables to the slow cooker.
Add the crushed tomatoes, tomato paste, wine, salt, pepper, crushed red pepper flake, thyme, and Parmesan cheese to the slow cooker.
Stir well.
Cover and cook on low for 6 hours.
Just before the sauce is finished, place the zucchini noodles in a microwavable bowl.
Cover and microwave on high for 4-5 minutes.
Drain the zucchini noodles.
Toss the zucchini noodles in the meat sauce and add some extra Parmesan cheese.
This recipe makes a lot of sauce! I recommend freezing half of it.
Adapted from:
Jelly Toast Blog
Recipe by
Cookbook Meals
at https://www.cookbookmeals.com/slow-cooker-meat-sauce-with-zucchini-noodles/