Slow Cooker Pot Roast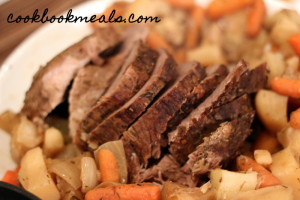 1 three pound beef roast
4 tablespoons extra virgin olive oil, divided
1 tablespoon coarse kosher salt
1 tablespoon dried thyme
1 tablespoon dried rosemary
½ tablespoon garlic powder
½ tablespoon ground black pepper
½ tablespoon paprika
½ tablespoon dried parsley
1 pound baby carrots
4 large baking potatoes, peeled and chopped
2 stalks celery, chopped
1 onion, chopped
1 cup beef broth
1 tablespoon cornstarch
1 tablespoon water
Heat a skillet over medium high heat.
Drizzle half of the olive oil over the roast, rubbing it on.
Combine the salt, thyme, rosemary, garlic powder, black pepper, paprika, and parsley in a small bowl.
Sprinkle two thirds of the spice mixture all over the roast.
Sear the roast on all sides in the skillet.
Place the roast in your slow cooker.
Combine the carrots, potatoes, celery, and onions in a large bowl.
Add the remaining olive oil and spice mixture.
Toss to combine.
Pour the vegetables over the beef in the slow cooker.
Add the beef broth.
Cover and cook on low for 9 hours (or high for 5-6).
Remove the vegetables and meat from your slow cooker.
Pour the cooking liquid into a small saucepan of medium heat and bring to a boil
Combine the cornstarch and water in a small bowl.
Whisk well until there are no lumps to make a slurry.
Add the slurry to the cooking liquid, whisking while you add it.
Bring to a simmer and let cook for a minute or two until thickened.
Pour the gravy over the meat when serving.