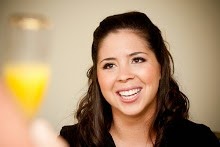 Hi, I'm Katie and this is Cookbook Meals! I'm a middle school math teacher by day and a food enthusiast by night. I live with my husband, Matt, and our infant daughter, Madison, in New Jersey. Matt and I eat all of the recipes that are on the blog. (Madison will be eating them too soon!) They are the actual meals I serve everyday at home. (I make all of them in my teeny, tiny townhouse kitchen!) I started this blog as a newlywed in January 2011 as a place to document the meals I cooked each night. I have no formal culinary training (or photography training besides one class a long time ago freshman year in college), but I love looking through cookbooks (hence the name of this blog), watching cooking shows, and finding recipes online (Pinterest is seriously the best!).
Cookbook Meals has certainly evolved over time. What started as a quick review and picture of a recipe that I made for dinner soon morphed into a few pictures with cooking directions. Over time, my posts transformed even more into detailed instructions with step-by-step photos for all the visual learners out there (as well as a link to a printable version) for all of the recipes I make, adapt, and create! I hope you like what you find here. If you have any questions or comments, email me at [email protected] or use the Contact Me form at the bottom of this page.
*If you are another food blogger and want to link one of my recipes or use a photograph from one of my recipes in a post of yours, you may do so without needing to email me for permission as long as you link back to my blog and it is not a recipe reprint.

*Feel free to pin any (or all) of my recipes!
[contact-form][contact-field label='Name' type='name' required='1'/][contact-field label='Email' type='email' required='1'/][contact-field label='Website' type='url'/][contact-field label='Question or Comment' type='textarea' required='1'/][/contact-form]